Historic Diversity Trailblazer & Equality Advocate – California's First Black Female Judge Dies at 96 Years Young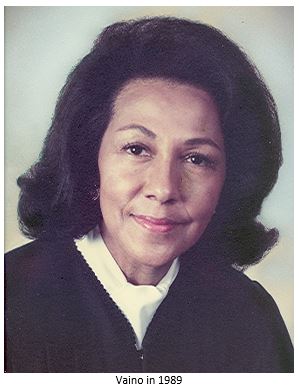 As a tribute to the legacy and life of Justice Vaino Hassan Spencer – including her commitment to diversity in the legal profession and improving American society for the betterment of everyone – The Azara Group is sharing an overview of this historic trailblazer. We should always remember those who paved a path so we can enjoy more opportunities, and expanded possibilities for our personal and professional enrichment.
Retired California Court of Appeal Presiding Justice Vaino Hassan Spencer died in her sleep of natural causes at the age of 96 on October 25, 2016. She was one of California's longest-serving jurists, and a trailblazer for women and minorities in the legal profession. She was a judge for 46 years, and was the Presiding Judge for Division One, California Court of Appeal, Second Appellate District for 27 years.
As Lonnie G. Bunch III, Founding Director of the Smithsonian's National Museum of African American History and Culture (NMAAHC) remarked, "she lived a wonderfully important life."
Justice Spencer was the first black female judge in California, the third in the country, the third black woman to pass the California State Bar exam, the third to open a law practice in Los Angeles, and the first black female judge on California's Court of Appeal. Justice Spencer had a life of many firsts. She also actively promoted the advancement of others by carving a path for other women and people of color to follow in her footsteps.
She was a trailblazer and a self-made woman in an era when there were few opportunities for women and people of color. Justice Spencer was the embodiment of grace and intellect – knowing how to leverage influence and charm to be a pioneer in her time. She was proud of her legacy and how she presented herself to the world – living true to who she was as an elegant black woman who gladly owned her responsibility to open doors for others not just in California but across the United States. She was a staunch advocate for equality, and did not settle for the status quo.
Today, there are many Americans who can thank Justice Spencer for the path she helped carve for them – including those who never met her yet are the beneficiaries of her legacy. Justice Spencer was a woman to be admired as a jurist, and as someone who created both professional and life-long opportunities for other women, people of color, and lawyers. She dedicated her life to the betterment of American society.
Early Life & Education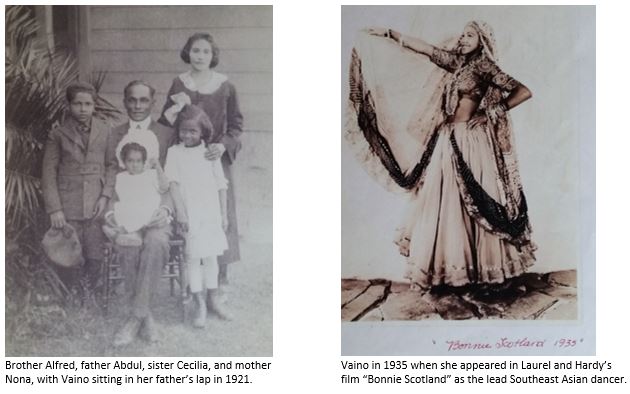 Justice Spencer was born Vaino Hassan in Los Angeles on July 22, 1920 to Eddie "Nona" Taylor from Eutaw, Alabama and Abdul Hassan (aka Alfred de Livera) who immigrated to the United States in 1910 as a cabin boy from Balapitiya, a coastal town in south-west Sri Lanka. She was the youngest of three children, with a brother named Alfred and a sister named Cecilia. Throughout her lifetime, Justice Spencer remained close to her parents. She credited her mother, who lived to be 96, with being her inspiration and source of support for her legal career. Her mother remarked in 1962, "…her father wanted her to be a lawyer…her father was right."
At the age of 15 in 1935, Spencer appeared as the lead Southeast Asian dancer in Laurel and Hardy's Bonnie Scotland, in addition to her father who was in the film. She also had small roles in other movies starring Errol Flynn in the 1930s – including The Charge of the Light Brigade where she played a servant girl in 1936.
In 1938, she graduated from Los Angeles Polytechnic High School and was the valedictorian. Prior to her legal career, she was a real estate broker, along with her father in the Hassan Realty Company, which she helped to start with the assistance and support of her brother Alfred. In 1949, she graduated summa cum laude from Los Angeles City College with an associate's degree, and earned her L.L.B. degree from Southwestern University School of Law in 1952.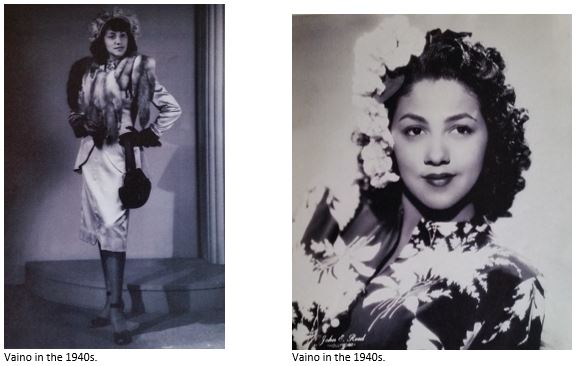 Spencer was married twice, with her second marriage taking place during her first year in law school to real estate broker Lorenzo V. Spencer. At the time, he was considered one of the wealthiest black real estate brokers in Southern California. They divorced in 1967, after nearly twenty years of marriage. They did not have any children.
Legal Career, Diversity Champion & Community Leader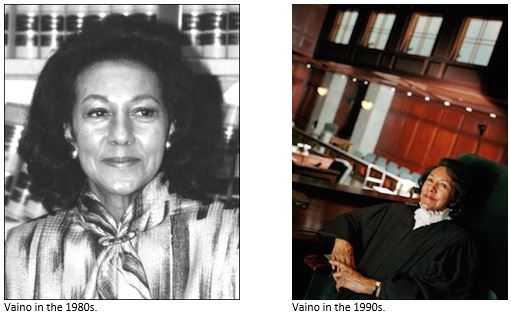 After graduating from law school, Justice Spencer practiced law for nine years – primarily focused on civil litigation in private practice. She was very active in local and national politics, as well as the social justice issues of her time. In 1961, Governor Edmund "Pat" Brown appointed her to the Los Angeles Municipal Court, making California's first appointment of a black woman to the bench, and third such appointment in the nation.
In 1976, Governor Edmund "Jerry" Brown, Jr. appointed Spencer to the Los Angeles Superior Court – presiding over an array of legal matters in the areas of civil, criminal, juvenile, and family law. Four years later in 1980, Governor Jerry Brown elevated her yet again by naming her Presiding Justice of the Division One, California Court of Appeal, Second Appellate District – making her the first black woman on California's Court of Appeal. She served with distinction as presiding justice for 27 years until her retirement in 2007. She spent 46 years diligently serving the State of California as a judge.
Justice Spencer was not only a trailblazer as a judge, but was a pioneer for women and minorities in the legal profession. She was also active in the Civil Rights Movement and a leader in the community. To support her goal of expanding diversity on the bench, she co-founded the Black Women Lawyers Association of Los Angeles (BWL) in 1975. In 1979, she also co-founded the National Association of Women Judges (NAWJ) with Justice Joan Dempsey Klein. Both of these organizations still thrive today.
In recognition of her groundbreaking efforts for gender and racial equality, the NAWJ created the Justice Vaino Spencer Leadership Award, and BWL created the Justice Vaino Spencer Excellence Award. Since Justice Spencer's retirement, BWL has been awarding scholarships to law students in her name through its charitable arm, the Black Women Lawyers Foundation.
Saying of her recent passing, California Supreme Court Chief Justice Tani Cantil-Sakauye remarked:
Justice Spencer was a double pioneer – a pioneer for women on the bench and a pioneer for people of color on the bench in Los Angeles, statewide, and nationally….[She] laid the groundwork for women like me to even consider a career in the legal profession, to advance within the profession, and to embrace positions of leadership. She leaves a legacy as a jurist in her opinions and as a role model in the person she was.
Judge Veronica McBeth, retired Justice of the Los Angeles County Superior Court, also described Justice Spencer's contribution to female attorneys of color like herself:
Justice Spencer was an amazingly kind and generous person. I am one of many who benefited from her generosity and outreach. I would never have applied and been appointed to the bench so early in my career without her support and encouragement.
Awards, Honors & Civic Involvement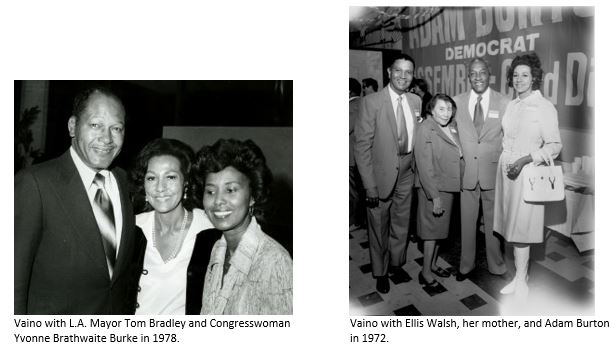 Often noted for her regal appearance – landing her on many "Best Dressed of LA" lists during her life – Justice Spencer was very politically active outside of the courtroom. In the 1950s, she helped found the Democratic Minority Conference (DMC) along with civil rights attorney and activist Leo Branton, Jr. She was the head of the DMC from 1957 to 1960, which was an organization that served as a blueprint for black representation in Los Angeles government. Its members included notable politicians like the then future Los Angeles Mayor Tom Bradley, a close friend.
Justice Spencer also served on many boards and committees, and regularly engaged in community activities. Among some of her community work, she served on the board of the California Law Revision Commission, National Judicial Council, Judicial Council of California, and California's Attorney General's Advisory Committee on Constitutional Rights. She was also an officer and director of the Los Angeles County Commission on Justice. She held leadership posts in over two dozen professional and community organizations – including the California Democratic Committee, the Democratic State and County Central Committees, the National Committee Against Discrimination in Housing, the California Mental Health Association, the Neighborhood Economic Development Corporation, the NAACP Executive Board, the National Bar Association, and the Langston Bar Association.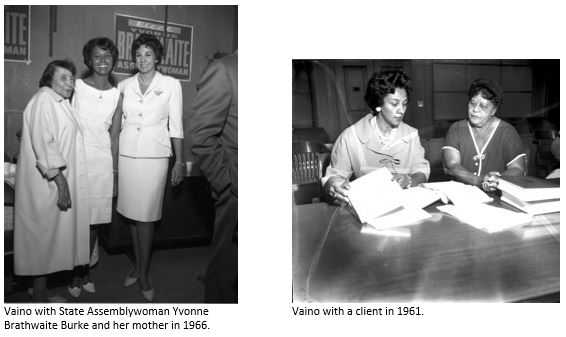 Throughout the years, Justice Spencer was also active with her law school alma mater, Southwestern University. She served on the boards of the Alumni Association, the Tom Bradley Scholarship Endowment Fund, and the planning committee for the Gilbert and Theresa Lindsay Scholarship Endowment Fund. She received the "Outstanding Judicial Officer" award from Southwestern in 1989, and an honorary Doctor of Laws degree from the law school in 1996.
Her numerous other honors include Outstanding Jurist Award (2001); initiation into the Langston Bar Association Hall of Fame (1991); Honoree of the Year from the National Association of Women Judges (1992); the Lifetime Achievement Award from the Judicial Council of the National Bar Association (1991); the Metropolitan News-Enterprise Person of the Year Award (1991); the Trailblazer Award from the National Association of Business and Professional Women (1985); the Bernard Jefferson Appellate Justice Award from the California Association of Black Lawyers (1983); and the Judge Ernestine Stahlhut Award from the Los Angeles Women Lawyers Association (1976).
Family & Lasting Legacy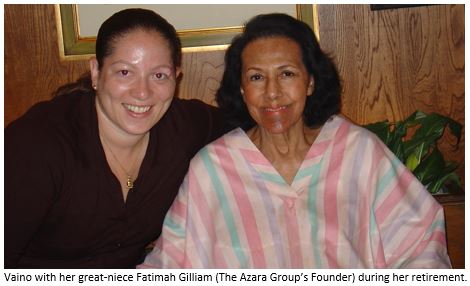 Justice Spencer is survived by her niece Johann Hassan, a retired Los Angeles school teacher, and her niece and goddaughter Dr. Amina Hassan, scholar and author of the biography of civil rights attorney Loren Miller, for which Justice Spencer became a primary source as she was friends with Miller along with Dr. Hassan's parents. She is also survived by her great-niece Fatimah Gilliam, Esq. who is an attorney, entrepreneur, and Founder & CEO of The Azara Group, and survived by many other great-nieces and great-nephews and their children.
Justice Spencer will be dearly missed by those who loved her, worked with her, and called her aunt, friend, or mentor. Her family hopes that Justice Spencer's career, contributions to the legal profession, and commitment to the betterment of women and minorities will continue to inspire others to become community trailblazers.
In Justice Spencer's memory, her family encourages those who knew their "Aunt Vaino" or are inspired by her life to become and remain life-long voters – seeing this as the best way to honor and remember someone who was passionate about change and civic involvement.
The Azara Group (TAG) is a consulting firm that promotes the development of leaders in an increasingly competitive and diverse marketplace – providing strategy consulting services and leadership training services to advance professional and life success. TAG leverages expertise in career strategy, diversity, negotiation skills, and business acumen to provide strategic advice and consulting services to help people and organizations get what they want, achieve their goals, and advance their business and career objectives. TAG also helps companies better attract, retain, and promote diverse talent, and develop robust diversity platforms and strategies to create a more inclusive workplace.
The Azara Group welcomes your direct comments and feedback. We do not post comments to our site at this time, but we value hearing from our readers. We invite you to share your thoughts with us. You can contact us directly at info@theazaragroup.com.